Manhattan End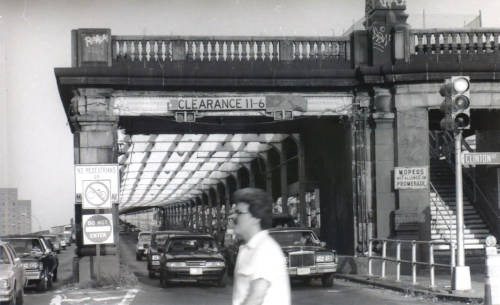 1992 photo of the Williamsburg Bridge at Clinton St in Manhattan. Note the staircase on the right in the middle of the stone structure.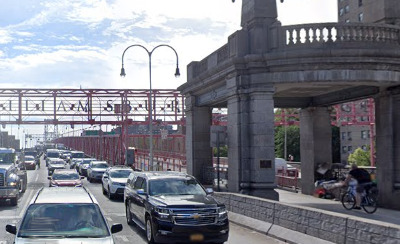 2022 StreetView image of the Williamsburg Bridge at Clinton St in Manhattan. Note the path is ramped, passing through the middle of the stone structure.
The Williamsburg Bridge has two subway tracks running along the center, and motor vehicle lanes on both sides of the subway tracks. People walking and cycling the do so on a promenade above the inner roadways.
Prior to the 1990's reconstruction, people in Manhattan accessed the promenade via stairs between the inbound and outbound roadways. The stairs used the space above the subway tracks, which are below ground at that point. (photo, right top)
New York State and City Departments of Transportation began planning the bridge's rebuild in the late 1980's. Early drawings of the Manhattan end (closeup, full) proposed overpasses from both sides of Delancey St, each with stairs, plus a switchback ramp on one side. The switchback ramp would be to narrow and inconvenient, degrading access to such a major transportation facility.
Upon seeing those plans in the Fall of 1989, I quickly contacted NYC DOT officials with an informal proposal. Rip out the stairs and have the cycling path above the subway, tracing that grade up to the promenade level. People walking would take stairs from the far sides of Delancey St, cross over the motor vehicles, then continue at the promenade level, above the bike path, tracing the roadway grade until joining the cycle path. After a year of discussions with the agency, I formalized the proposal in a set of drawings. The DOT implemented the center running ramp concept (photo, right bottom), though decided to put people walking there too, instead of having them use overpasses from the sidewalks.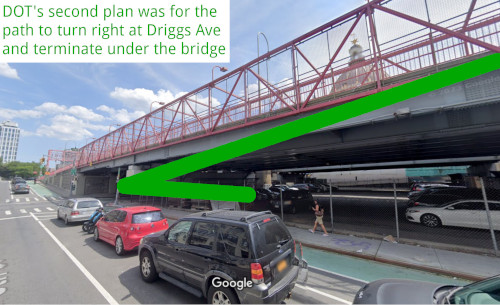 2022 StreetView image of the Williamsburg Bridge passing over Driggs Ave, Brooklyn. The outermost structure along this side of the bridge is the cycling path. Drawn on the image is a green line approximating the DOT's 1992 proposal for the path terminus.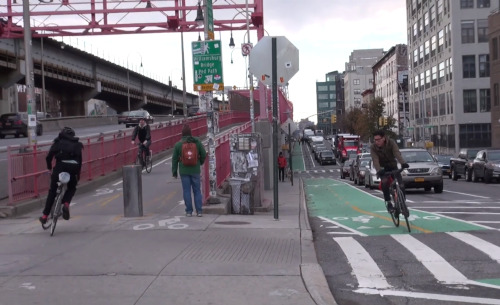 2017 video still showing the Brooklyn end of the Williamsburg Bridge's cycle path. (Credit: StreetFilms)
Brooklyn End
The original Brooklyn end of the walking / cycling path ran down the center of the bridge, between the embankments holding up the two roadways, then terminated on Driggs Ave, in a dank space with low overpasses on either side.
As construction approached, drawings in the DOT's outreach materials showed a new problem. The Brooklyn end of the cycling facility would be on the outside of the bridge, then have a 90 degree turn and touch down under the bridge. (closeup, full)
A sharp turn in a caged path is risky both riding wise and crime wise. The space under the bridge is isolated and dark. Such conditions make people feel unsafe. The path would also be fairly steep. (See green line in photo diagram, left top)
I had casual conversations with DOT staff to suggest that the bikeway pass over Driggs Ave and land at South 5th Pl. Doing so keeps the path wide, straight and out in the open. Plus, by combining the slightly higher elevation at South 5th Pl with the longer run, riders get an easier slope. Fortunately, that is what the DOT did. (photo, left bottom)
---