Manhattan Rickshaw Company
Changing Perspectives since 1995
| | | |
| --- | --- | --- |
| | by Samantha Moranville | |
---
A Few FAQ's

| | |
| --- | --- |
| How much do you cost? | About a dollar a minute for two people. Your driver will be able to quote an exact fare. |
| Where can we find you? | We operate in several parts of the city, including midtown, Times Square, Greenwich Village and in downtown areas such as SoHo and Tribeca. |
| Are you cheaper than a taxi? | We see ourselves as different from the taxicabs, though there are similarities. It's a different type of journey that we offer, not based on speed over a great distance but on leisure and pleasure. And sometimes we're faster than traffic. Reach your destination in a different state of mind. |
Background Information
We started pedicab service in New York City for several reasons. One is to take our love of cycling in a new direction, taking note of the personal and environmental positive impacts. We thought it would elevate cycling in general by offering non-cyclists (generally) a virtual "bike ride" effortlessly, and demonstrating that cycling belongs in cities. pedicabs have become a symbol of fun and leisure in NYC. And pedicabs offer drivers a different kind of work that is outdoors, fun, healthy and highly personalized for the passengers.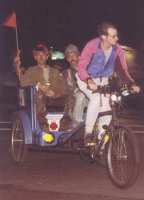 by Samantha Moranville
Every pedicab driver in NYC has a story to tell about her or his experiences. Not only do they add to the experience of visiting or living in NYC, pedicabs have been very important during times of crisis. Immediately after September 11, 2001, drivers offered free rides to emergency workers along the West Side Highway. Drivers not only from this company but from the other companies in town worked downtown, in the "frozen zone," south of Canal Street, where car travel was practically eliminated. And during the 2003 blackout, pedicabs from all of the companies were operating late into the next morning helping people to get home, get around town, and avoid being stranded. And there are good times as well, from the annual Village Halloween parade, the Five Borough Bicycle Tour, to the Gay Pride parade, to countless Critical Mass rides, pedicabs add that vibrant and participatory experience for the passengers who hire us for their special events.
---
Manhattan Rickshaw Company
Sensible — Affordable — Magical