Home | FAQ | Note to Prospective Campers | Application | Make a Donation
American Jewish Society for Service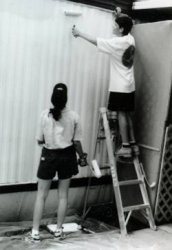 High School Work Camps
Since 1950, the American Jewish Society for Service (AJSS), an independent, charitable organization, has been conducting voluntary summer work camps throughout the US. Why? Primarily in order to give young people an opportunity for serving their fellow men in need. Our projects usually involve the construction or repair of one or more buildings. We have built a school, a gymnasium, single family homes, barns, recreational facilities, a community center, installed water systems, repaired homes, etc. In 133 projects, we have worked in 46 states in such widely scattered places as New Mexico, South Dakota, New Hampshire, South Carolina, California and Kentucky; 17 projects have been on Indian Reservations. Recreation, education and religion are included in the program. The cost for six weeks is $2,500 plus transportation; some scholarships are available.
Boys and Girls applying must have completed Tenth Grade by start of camp.
If you want a truly different summer, performing physical labor for the benefit of a disadvantaged community in the United States and can adjust to living as a member of a co-ed group of 18 persons for six weeks starting about July 1st, contact us for full details:
American Jewish Society for Service
15 E 26th St Suite 1029
New York NY 10010

(212) 683-6178

OR

Fill out our Application for Summer Work Camp right here on the web!
---
Home | FAQ | Note to Prospective Campers | Application | Make a Donation
---
American Jewish Society for Service
www.ajss.org info@ajss.org Tel: (212) 683-6178
15 E 26th St Suite 1029, New York NY 10010
This URL: http://www.analysisandsolutions.com/websites/aj1.htm Modified: 19 March 2005, 1:39 pm © 2005